HOST A TRAINING
COURSES FACILITATED BY OTHERS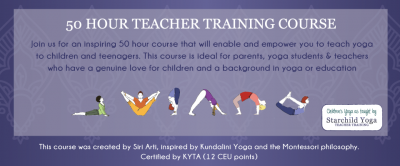 Please contact me on siriarti@starchildyoga.com to discuss the possibility of bringing Starchild Yoga to a studio near you. This can take time to arrange, but let's keep planting seeds and spreading the word. Our intention is to bring peace to the world, one child at a time, by creating fantastic teachers.
5-day Starchild Yoga Teacher Training
50 hour Foundation Course
Includes an open exam on day 5 and reading and preparation work each night.
Certification is given on attending the full course, full payment, teaching assessment and exam.
* Please note that a certificate of competence will be issued on successful completion of all the above. Certificates must be earned and will not be given for attendance only. Siri Arti reserves the right to certify.
COURSE CONTENT
Starchild Yoga Methodology
SCY Ethos
Kundalini Yoga & Mindfulness
Montessori education
Role of the SCY teacher
Meeting the child
Starchild Yoga Structure
Format of the class
Warm ups
Pranayama
Postures
Meditation and Mantra
SCY relaxation
Starchild Yoga Age Groups
Teaching and Meeting
Teaching 3-5
Teaching 6-8
Teaching 9-11
Teaching 11-13
Touching on Teens
Class Management
SCY principles
Benefits
Management
Games and teaching bag
COST
Due to strong fluctuation of the pound – euro exchange rate and losing money by buying and selling currency, the course fees will be set in British Pounds.
Based on a UK fee of £750 per person.
Working toward a minimum base line of £4500 = 6 people.
Optimal number of 15 people  (Any more to be discussed with lead trainer)
Expenses to be covered:
Flights
Manual printing
Accommodation
Venue
Sundries: tea, snacks etc
Cost – expenses = profit
Profit is then split between lead trainer and facilitator 70 – 30
EXAMPLE:
15 people x £750 =            £11 250.00
less    flight                          £    600.00
accommodation                 £     250.00
manuals                               £    250.00
sundries                               £    100.00
                                               £10 050.00

70%    trainer                        £ 7035.00
30%    facilitator                   £ 3015.00
This is an example of an optimal amount.
It is not always possible to reach this number, so a lower number of people are acceptable as long as the minimum base line is covered.
Arrangements, details and expenses will vary with each course and location, so please view this information as a guideline only.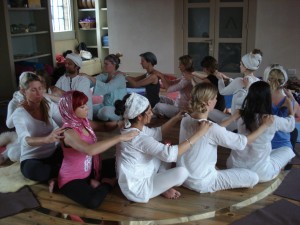 Starchild Yoga is an education for peace. Join our movement and be part of the change.